As a Solutions Designer at Brandmovers, I've performed a variety of functions & tasks:
New Business / RFP Response Execution
Project Cost / Budget Analysis
Analytics Recap Reporting
Trend, Technology, and API Research
Strategy Deck Creation & Presentation
Ideation / Brainstorming
Concepting Development
Copywriting
Photoshop/Balsamiq Mockups and Sketching
Presentation Deck Creation
Client Presentations
Wire-framing
Site Mapping
Prototyping
Usability analysis for Sites and Apps
20th Century Fox: X-Men: Days of Future Past
Task: Develop a mobile experience to engage and excite users 18-35 about the new X-Men movie.
Concept 1: The Trask Mutation Guide
Trask Industries, the leader in progressive human innovation, presents the Mutations Guide: an interactive experience that allows humans to explore and understand how genetic mutations are expressed in DNA.
Users engage by tapping, swiping, and manipulating a model of DNA to uncover the differences between certain mutations expressed in the X-Men universe.
Integrated with character mutant in the movie and "expressed gene intensity charts," users gain a holistic view of the dangerous world of mutations.
Concept 2: Past to Future X-Swipe
Witness the transition from young to old and see the chain of events in the X-Men universe based on the characters in the franchise.
Users will be presented split faces (in the X-form shown in the character posters). Users will able to swipe left and right on the faces to see facts and experiences occurring during a time frame in the X-Men universe.
Six of the most pivotal characters can be featured including Professor X, Magneto, Mystique, Wolverine, and Mr. Trask.
Red Bull
Task: Create a kick-ass mobile or tablet digital experience that can potentially be integrated into gas pump / convenience store marketing collateral.
Concept 1: Ask Siri or Google Voice
At the pump, users will be directed to ask one of few questions to Siri or Google Voice.
With witty & clever messaging, users will be directed by Siri & Google Voice to go inside and buy a Red Bull drink.
Potential question and answer:
Question: Siri, why is Red Bull Awesome?

Answer: Because it gives you wings. Now go inside and grab a cold one.
Concept 2: Stratos Jump - Longest Website Ever Created.
In this epic website content experience, we'll show users how some of Red Bull's most celebrated athletes get focused to conquer the most ridiculous challenges.
Users will be presented with three scenes showing how athletes can focus during times of extreme stress. This leads up to full 23 km scroll-down experience, showcasing the famous Red Bull Stratos Jump, which would qualify as the longest fixed-width website ever created for the Guinness Book of World Records.
Each instance will include a parallax-style format with clickable factoids showcasing specific thoughts and issues presented when the athletes come upon a specific challenge.
Possible "scenes" may include:
1. Kayaker Steve Fisher defeating an epic waterfall.
2. Racer Sebastian Vettel breaking from the pack in Formula One.
3. Stratos Jumper Felix Baumgartner's dive to Earth.
Universal Pictures: Non-Stop
Task: Create a social-mobile experience to promote the new Liam Neeson action film, Non-Stop.
Concept 1: Non-Stop Love from Liam Neeson
To celebrate the movie's release near Valentine's Day, we want to give users the ability to send their loved ones heartfelt digital greeting cards, with action star Liam Neeson, staring them down.
Users visit an experience where they can select from intense images or video clips of Liam Neeson inside of a heart cutout and choose ridiculous sayings, i.e. "My heart beats Non-Stop for you, baby."
Greeting cards can be shared through text message, email or on Facebook and each time users create and send a new card, they will gain an additional entry into a promotion. There will be a call to action on each card that points the user to the film's website to view more content or YouTube trailer.
Nickelodeon
Task: Integrate a Nickelodeon sponsor into a quirky promotion that will attract kids and their parents alike.
Concept 1: The History of Food as Told by SpongeBob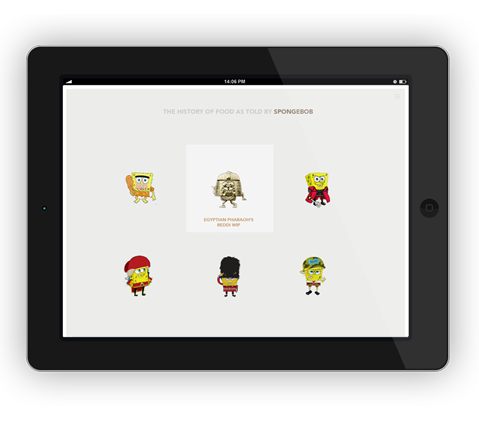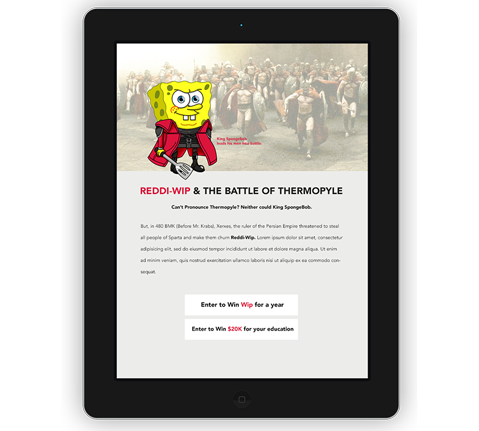 Did you know that Whipped Cream actually dates back to the Renaissance?
Let SpongeBob take you inside a bourgeois "totally accurate" experience about the history of Whipped Cream. Find out how everyone's favorite Reddi-Wip whipped cream came into being and explore world history in the process.
Users will be presented with an elegant "museum-like" experience where users click or tap on a gallery of SpongeBobs dress in clothes from a certain era (i.e. Cavemen fur, Egyptian Pharaoh, Trojan Warriors, etc.)
The site will include links for parents and kids to be entered to scholarship money.
Dr Pepper Snapple Group - Taco Bell
Task: Create a year-long promotional overlay to entice customers at Taco Bell to purchase Dr Pepper drinks. Think McDonalds Monopoly Promotion big.
Concept 1: The Year of the Bell
Those who eat Taco Bell in 2014 are sure to find prosperity and happiness in their lives this year.
Inspired by the Chinese Calendar, Taco Bell will unravel "The Year of The Bell," a year-long promotion that integrates Dr Pepper and Taco Bell into a 12-month calendar.
Each month, a new Taco Bell item will be featured, where consumers can win discounts/prizes by purchasing a Dr Pepper drink with the featured monthly item. Consumers can also purchase drinks without the featured item for lesser prizing.
To aide in content creation and have a simple online experience, users can learn more about their personality, based on the year they were born in (If you were born in 1990, 1945, you are the Volcano Taco and have a short temper, but a lot of fiery passion).
As a throwback to your grandparents favorite activity, Taco Bell & Dr Pepper will launch a year-round bingo-style event dubbed as simply… "Burrito."
Users can redeem codes from receipts or packaging and place it on a virtual bingo-style card to win small discounts and prizes.
Users can pick up a board at a Taco Bell or download a Burrito app that will maintain all information for the users. When users spell Burrito, they will be able to receive double-value discounts for purchases at certain stores and venues. Each spot will have it's own dedicated discount that will be unlocked when a game piece is added.
The grand prize could be reserved if you win a rare spot on the board.